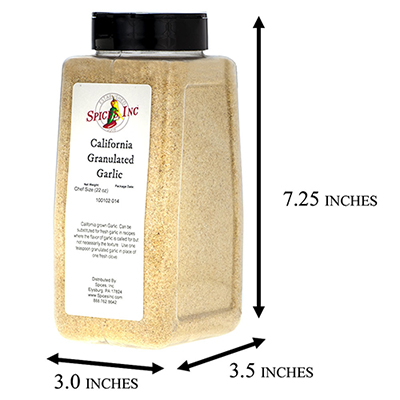 Chef Size
Our chef size comes highly requested! After many customer inquiries ranging from the home chef to the restauranteur, we finally introduced our 32 fl oz chef size! This size is suitable for everyone. We have had customers comment on how this size is perfect for their spice cabinet. From restaurant chefs we've gotten numerous compliments about how easy this size is to incorporate into their cooking routines, as it's a great way to maximize the limited space they have to work within in those tight, tiny kitchens. The chef size has two convenient options for spice dispensing, with a lovely pour spout on one side of the cap and a sifter on the other for a slower flow. Small batch seasoning companies and specialty food manufacturers who purchase from us have been raving to us about how convenient this size is for maximizing their production productivity. We have received some feedback that our bulk bags are difficult to use and store. The chef size is big enough to ensure you won't run out of product at an inopportune moment, easy to store, and small and convenient enough to incorporate into a very busy commercial kitchen setting! Best of all, our Chef Size packaging is BPA-free.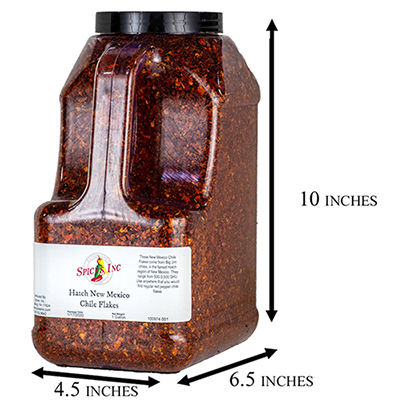 Gallon Size
Add 128 fl oz to our Chef Size and you will have on your hands our 160 fl oz Gallon Size. Like the Chef Size, the Gallon Size is also BPA-free. You can get up to 5 refills for the Chef Size out of our Gallon Size, ensuring that you will always have a high quality backstock on hand. This is a great size option for specialty food manufacturers or seasoning companies who aren't quite up to bulk box size but want something bigger than our chef sizes. This size also makes sense for restaurants where space in the kitchen is a precious commodity, yet having enough of an herb, spice, or seasoning on hand is a necessity for a productive day. Just imagine our fragrant California Garlic in a Gallon Size! You'll certainly have the inventory, but your risk of running out is much smaller than it would be if you were relying solely on the Chef Size. We are excited to introduce this as the newest size in our product lineup, as we have had several customers comment on how inconvenient our bulk bags are to store and use when in such a hectic kitchen environment. The Gallon Size is much more convenient and easier to store.
What Does BPA Stand For?
BPA stands for "bisphenol A." This is a chemical that has been used to make certain plastics since the 1960s. BPA has been implicated as causing health issues in human beings in recent years, leading some consumers to feel hesitant about consuming food products packaged in plastic.
Are the Commercial Kitchen Sizes BPA free?
Both our Chef Size and Gallon Size are BPA free!
What Other Sizes Do You Carry?
Looking for something smaller? Interested in even larger bulk packaging? Click here to learn more about the other size options we have available for purchase!