We're a spice and seasoning company and have been creating BBQ rib rubs for ourselves and offering custom blending for others for over 13 years. This has given us a tremendous amount of insight into what makes the best-tasting recipe for a dry rub for ribs. How do we know? Experience has taught us what our customers like; we sell a lot of these rubs to our customers, over and over again. And we're interactive with them, so they provide lots of feedback through product reviews and emails, or they'll call us on the phone. We also know which custom-blend rib rubs enjoy the most commercial success, because our barbecue restaurant customers keep coming to us so they can re-stock their inventory.
When you're first learning to smoke your own ribs you typically start out with a pre-mixed seasoning blend. Once you're hooked on smoking, you'll probably get the itch to try your hand at creating your own unique seasoning. Where do you go first? The internet. The search will start with keywords like "championship rib rub recipe" or "award-winning rib rub recipes". You can certainly try those blends but what wins a judged cooking contest is very different than what most chefs are looking for. Your real question should be: What is the best tasting rib rub that will impress my friends and family? The most successful BBQ restaurants aren't looking for the glory that winning a weekend contest might bring from a small panel of judges. They're looking to make a productive and profitable living selling barbecue ribs, pulled pork, and barbecue chicken. The key to that success lies in pleasing a large number of people; they win by earning repeat customers.
We took an analytic dive into the most popular internet rib rub recipe searches and overlaid them with our own in-house rib rub recipe data. We then interviewed some of our thriving barbecue restaurant owners to get their take on what makes for a successful BBQ rib rub. What we found was that the typical rib rub has just over 9 ingredients, and individual recipes ranged from as few as 3 ingredients to as many as 16.
Then we compiled the information into a series of stats and graphs, to help guide you along as you play around in your kitchen and develop your signature rub. You'll find what you need to know to create your own unique rib rub. We're not giving you just one recipe to duplicate but rather, we're giving you a schematic with a broad overview. We share which spices are mandatory (or close to it) to make a delicious rub, and which ones are often used as supporting players to give a rub a specific flavor profile. This will allow you to create your own unique rib rub recipe that'll have friends and family asking for your secrets.
Tip 1: Get the Basics Right
Our analysis found that the most popular online rib rub recipes and our professionals both believe in the basics. There are a basic seven spices that appear together in 63% of the recipes we researched –black pepper, salt, paprika, sugar, garlic, chile powder, and onion --and we found that black pepper was used 100% of the time, making it the most common spice for rubs. It is followed by salt, paprika, sugar, garlic, chile powder, and onion.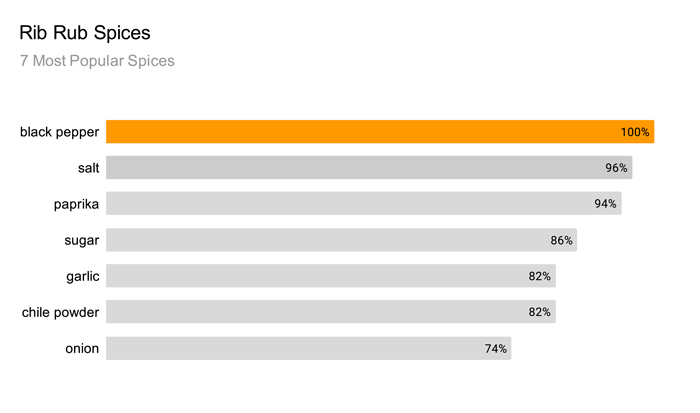 There are some variations in the salt, sugar, and chile powder selections. Many of the recipes only use one type of salt, sugar or chile powder while others use a combination of various types. We've seen recipes that use two, three, or even four different types of salt in their blend (i.e. kosher salt, celery salt, garlic salt and onion salt), up to two different kinds of sugar (i.e., demerara and brown sugar) and up to three different chile powders. For clarification: When we talk about chile powder with an "e", we are referencing a powder made from a single type of chile pepper, like cayenne, ancho or chipotle. Chili powder with an "i" is a blend of spices, herbs, and chile powders.
Kosher salt just edges out sea salt to claim the title of most popular salt at the barbecue, but their flavors and the chemistry they create in a blend are pretty similar, and using one over the other won't make dramatic changes in the overall outcome of the rub. When it comes to the most frequently used sugar, the sticky, rich flavor of brown sugar is the overwhelming winner.
We did hear from one of our barbecue restaurateurs about this and he prefers using natural sugars like demerara and turbinado. They're less processed and impart a deep molasses flavor to a rib rub. And, they don't over-caramelize and turn black during cooking. Sugar helps create the "bark", the crispy outer coating on a rib, so even if you normally don't care for sweet things we advocate adding a bit of sugar to your rub. It will help you get the right texture in the end.
As for the chile powder of choice, cayenne wins, hands down. Cayenne doesn't really add extra flavor to a blend, unlike ancho or chipotle chiles which have distinctive flavors. Cayenne is used more for the crisp, clean heat that it provides.
Tip 2: Understand the 2nd Tier of Spices
While the basic seven spices, discussed above, are the ones most frequently used, our database shows that rib rub creators choose from an array of 54 different spices and seasonings to create their own unique blends.
The 2nd set of frequently spices and seasonings for ribs consists of:
chili powder, yellow mustard, cumin, celery seed, thyme, ginger, oregano and lemon pepper.
This is the tier that chefs rely on once their creative juices start flowing. These second-tier rib seasonings permit personalization, as they allow the chefs to sculpt a rib rub into the flavor profile of their dreams.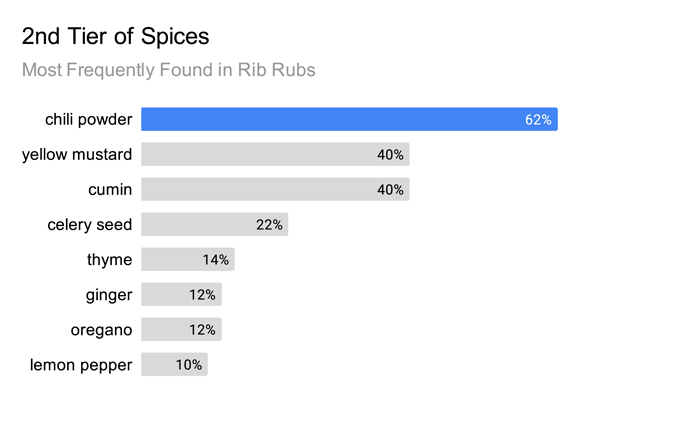 Back in the early days of our company we sponsored a BBQ contest in southern Pennsylvania; the highlight of that day was spending part of the day with Paul Kirk, a/k/a the Baron of Kansas City Barbecue. Paul is a 7-time World Barbecue Champion who has opened several barbecue restaurants and consulted on numerous others. He taught a sold-out class at our event that focused on smoking ribs, pulled pork, and chicken, and he spent a good deal of time discussing how to create your own signature BBQ seasoning blends. The attendees paid a pretty penny for a spot in his class and many brought along their own spices, looking for advice and inspiration. Paul certainly advocated using the basic seven spices, but was also a big fan of cumin and spent a good deal of time talking about how to use it in a rub. Cumin was not a typical spice in use with this particular crowd at the time and we ended up selling out of the packets of cumin we were selling from our sponsor tent within about 30 minutes after Paul's talk.
Tip 3: What Are The Secret Spices?
By now you've got a good understanding of the must-have spices you might want to consider when creating your own rib rub. But what if you want to go one step further? Our research shows that 42% of all rib rubs contain at least one dried herb. Herbs are popular for everyday cooking but may not immediately come to mind when considering ingredients for a rib rub. One of the questions we asked our BBQ restaurant owners was "What's your favorite "secret" spice to use, something that's outside of the basic seven spices?"
"I suppose the best "secret" herb blend is the one where no one can really point out or detect what's in it. The combination should bring an enhanced flavor to the ribs without overpowering the meat. We like the flavor of ribs and try only to enhance it."

Allyn Robinson
Happy Jack's Barbecue, Holyoke, CO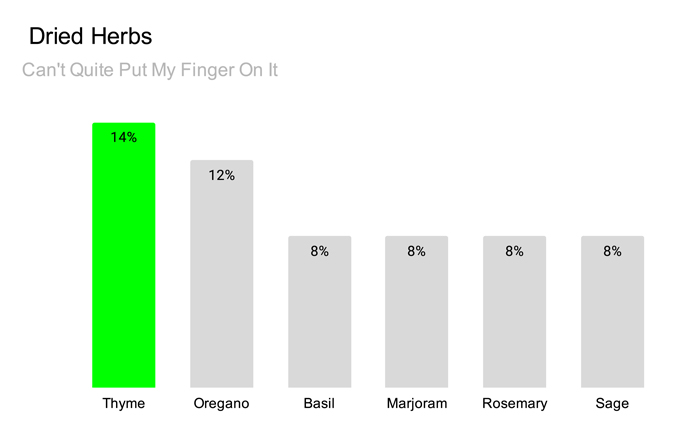 Other "secret" spices that give a rib rub that "little something extra" tend to have a floral or fruity flavor profile. Chefs use things like allspice, clove, coriander, cardamom, sumac, and citrus zests, particularly lemon or orange zest. One of the barbecue chefs we've worked with over the years loves to experiment and his favorite "secret" ingredient to use is grains of paradise. Grains of Paradise has a peppery zing and is surprisingly herbaceous and complex; it gained fame in this country as an ingredient in Summer Ale from Sam Adams Brewing Company.
Tip 4: Test, Taste, and Repeat
Now that you've gained a bit of understanding regarding what spices to use, how doyou put this all together? The beauty of any type of seasoning blend is that there is no one right way to create a blend. Start with the basics and add what you like. We do recommend that when creating your rib rub you keep detailed written records of how much of each spice, herb, chile powder or seasoning was used. That way when you taste test the cooked rib you can decide what flavors may have been too much, or not enough, and you can reliably make an adjustment the next time you cook. Just remember to note your adjustments, too.
When we spoke to our BBQ restaurants we asked them - "What was the one lesson you learned the hard way when creating your rub that if you had it to do over you would?"
"I wouldn't do anything over, you have to screw up before you get it right, makes you appreciate the trip that much more, but I would advise not touching your face or eyes after handling chile powder. I find more uses for our rib rub every day. We've used it on our pulled pork, chicken wings and BBQ chicken, and of course our fresh-made pork rinds."

Rob Finney, Buck's BBQ,
Phillipsburg, NJ
Don't be discouraged with your first couple of rib rub test batches if they don't turn out perfectly. It even takes the pros a while to get the right combination of ingredients dialed in. Even the pros say you have to screw it up.
Are you ready to start creating your first rib rub from scratch? Here are some rough guidelines to get you started. Here you'll find a range of ingredient amounts to use. Do you like your rib rubs on the sweet side? Use a higher amount of sugar. Do you like it on the hotter end of the spectrum? Use the higher amount of chili powder. You get the idea.
Salt (use one salt or a combination from the list above) 1-1.75 cups
Sugar (like salt use just one or a combination of several) 1-2 cups
Paprika .5-1.25 cups
Garlic (use either granulated or powder) .25-.75 cup
Chili Powder (depending on your heat preference) .25-.5 cup
Black Pepper .25-.5 cup
Onion (like garlic use either granulated or powder) 2-4 tablespoons
Chile Powder (if you like just a tad more heat use something like cayenne) 1-2 tablespoons
We know, we know. We just gave you EIGHT base spices to start with, but you can drop either the chili powder or the chile powder (remember the difference between chili with an i and chile with an e), or use lower amounts of them depending on your preference for heat. It's your taste and your test; heck, it's your kitchen. There are no "rules" etched in stone. Do what you want to please your palate.
We mentioned that the custom blends we do for our barbecue restaurant customers can contain up to 16 different spices, herbs and chiles powders. In addition to the base 7 or 8 spices you might want to consider some combination of these based on your preferences -
Yellow Mustard Powder 1-4 tablespoons
Ground Cumin 1-4 tablespoons
Ground Celery Seed 1-2 tablespoons
Oregano 1-4 tablespoons
Coriander 1-4 tablespoons
Lemon Pepper 1-2 tablespoons
Another herb (something like marjoram, basil or thyme) 1-2 tablespoons
Allspice 1-2 teaspoons
White Pepper 1-2 teaspoons
When you're just learning how to make a rib rub, we recommend that you don't use more than .25-.5 cup of these additional spices in total. You can try adding 1 tablespoon each of yellow mustard, ground cumin, ground celery seed, and oregano, for an additional .25 cups of seasoning. Or be even more judicious and just add one or two additional spices, which will give you a better idea of the way these additions change the overall flavor.
We can't stress enough that you should write all this down. Write down all of the ingredients and the amounts you used while testing various rub blends, and write about what you liked and didn't like about each blend after you've tasted the ribs. It's important to know what doesn't work, as much as it is to know what does. Documenting the steps you're taking will help you find your ultimate blend that much more quickly.
Creating and perfecting your own dry rib rub is a journey. Enjoy the process.